Dear Pinterest,
You make me happy.
To any of you out there who don't know about
Pinterest
... I am sorry. You should probably drop whatever it is you are doing and check it out right now.
Warning: This is an addiction that will consume the next hour/day/week of your life. (Remember when you started Facebook and you lost entire days to stalking your friends? Well, it is like that, only way better).
With that said, here is the inspiration for my latest creation:
I love them! I wanted something a little more neutral and shabby so here is my version:
What do ya think?
Now get out there and pin to your heart's content!
Linking To:
Pin It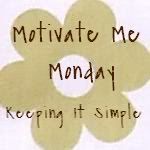 ake-me-happy.html